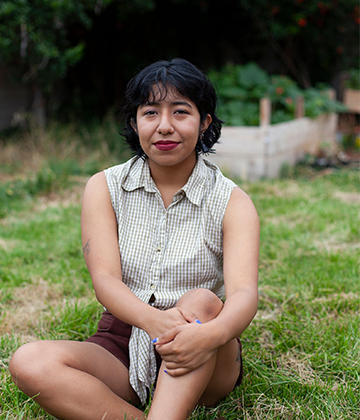 Gemma Jimenez has been a part of the Skirball family for the past two years as a teaching artist for our high school residency. We recently asked Gemma about her practice, and we found much to be inspired by with this incredible artist!
Who were some of the teachers, educators, or artists who inspired you to become a teacher? What do you think made them so special?
Five years ago, when I was asked to help assist the Echo Park Film Center youth classes, I was not sure what I was getting myself into. All I knew was that this community organization had given me the opportunity to create films and I should take it. Miko Reverza, an undocumented experimental filmmaker, was one of the instructors who showed me the ropes. Miko was the first person in my life who spoke so unapologetically about his status. He shared with us his life story, the importance of communication, and how film can be a tool for all of us. The Echo Park Film Center made it possible for Miko and me to create films about our narratives. For the first time in my life, I was unafraid to speak up about my undocumented status. I finally felt comfortable with myself. During a time when so much fear had been ignited, I am grateful to have Miko lead the way.
What impact do you hope to have on your own students?
I hope students feel proud of who they are and where they come from. As a student of urban studies and planning, I want students to understand the spaces around them. I want students to realize the role our environment plays in our everyday lives and how we can shape it for the better. But, before that is possible, students should feel confident in who they are. I want students to feel empowered and know they are capable of doing what they set their minds to. As an artist, I believe we are all creative people, and creativity can present itself in many different ways. Once students see their creative capabilities, the experience is life-changing. I know from personal experience, and I have seen it happen.
What are some of the lessons or activities you've created that you're most proud of in your career?
I enjoy discussing the development of cities and connecting that history to art. Some of my favorite artists who I like discussing are Leo Politi, Judith Baca, and Laura Aguilar. Talking about these issues and artists leads to discussions about home, development, documentation, or anything the students come up with.
Another favorite activity of mine is called "Mapping Our Neighborhood," for which students have three minutes to draw a map of their neighborhoods. I have done this activity with high school and college students, and both groups' reactions are the same. They are nervous and excited for the challenge. When everyone's maps are done, we share them and discuss why we chose to draw certain spaces.
Lately, the lesson I am most proud of is called "Self-Care through Zine-Making." "Zines" are self-published booklets that can be about anything and everything. In this activity, we focus on self-care. We discuss what that means to us and how we practice self-care. Everyone makes a foldout zine about their self-care practice, and students are free to be as creative as they want. Students really enjoy this activity, and I love when they share with one another their practices.
What are some ways you utilize photography in the classroom?
It's always fun to present students different forms of photography. We start off with cyanotypes to understand light. We move on to analog and digital photography and discuss why we choose certain mediums. We compare color and black-and-white images to understand their effect on us or on the image. We analyze photographs and discuss why the photographer chose to capture this moment. There are so many untold histories that should be shared more often, like Laura Aguilar's Plush Pony series. Plush Pony is a series of portraits of queer Latinx in Los Angeles. These portraits show how strong Latinx queer communities have been and the need for queer spaces. Sharing this series with students is exciting. They see how multicultural Los Angeles really is and how there's always been people before us who are taking up space to be their true selves. Seeing these photos not only makes us reflect on what cultures we are part of now but how interconnected our histories really are.
What advice do you have for teachers who are just starting out in their teaching careers?
Being a teacher is powerful. Never forget that. We have the responsibility of nurturing the generations that follow. As teachers, we should always do our best to be present and take care of ourselves, so we can teach with the right energy.
Interview has been edited for clarity.
Be a Featured Educator!
If you would like to be highlighted in this section, send a brief description and/or pictures of your trip to the Skirball and the pre- and post-visit classwork you did with your students. Feel free to brag about the many other ways you stand out as a Skirball educator! Or nominate a fellow educator who you think deserves to be featured in our newsletter. Email teacherprograms@skirball.org.