Kinetic Creatures
Art Making with Noah's Ark Artist Chris Green | Online Class
Choose one of two workshop dates:
Workshop 1: Sunday, October 11, 11:00 am–12:00 pm (PT)
Workshop 2: Sunday, October 18, 11:00 am–12:00 pm (PT)
About the Program
Ever wonder who made the fanciful, found-object animals aboard Noah's Ark at the Skirball™? In this workshop, you will meet Chris Green, the creative mind behind many of the Ark's moving sculptures and puppets—including the spindle-footed fox, the cowboy-boot rooster, and the zebras made from spinning wind turbines and electric keyboards. Go on a virtual tour of Green's Brooklyn-based studio, see early prototypes of a few of your favorite Noah's Ark inhabitants, and learn how to create your own kinetic animal sculpture using materials from a custom Skirball art kit.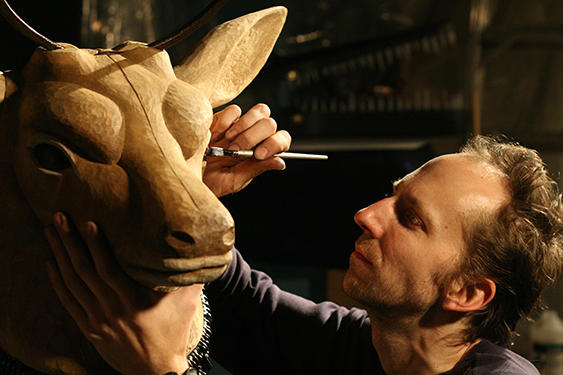 Chris Green painting a kinetic deer sculpture in Noah's Ark at the Skirball. Photo courtesy of the artist.

About the Art Kits
Each art kit has materials for one finished art piece. Households with multiple participants can work together to create their art piece or purchase additional art kits, as desired. Although most materials will be included in the art kits, participants will need to provide their own scissors.


About Skirball Studio Visits
This workshop is the first in a new limited series, Skirball Studio Visits, presenting monthly online art classes designed for families with children. Led by dynamic contemporary artists streaming live from their studios, each workshop features a specially designed art kit filled with everything you need to get the most out of these unique opportunities to make, play, and learn. Look out for announcements about future workshops in this series.
---
Instructor: Chris Green is a Brooklyn-based designer, director, and performer. His theatrical and installation works have been presented over the past twenty years, nationally and internationally, in venues including the Skirball Cultural Center, Lincoln Center, New York City Center, St. Ann's Warehouse, Goethe Institut (India), National Geographic Museum, La Jolla Playhouse, Teatro del Lago (Chile), and BAM Harvey, among others. Honors include Creative Capital (2009), MacDowell Fellowship (2012), and a Lower Manhattan Cultural Council Process Space Grant (2013). As a result of his work on Noah's Ark at the Skirball, his design studio, Chris Green Kinetics, has received awards of excellence from the American Alliance of Museums and the Themed Entertainment Association, as well as a Regional Design Award from the American Institute of Architects. Recent projects include Firebird, which includes ten puppeteers and a full orchestra; Hagoromo, a puppetry and dance collaboration with David Michalek, David Neumann, and Wendy Whelan; and This Is Hunger, a multi-media installation about hunger in America traveling across the country in an expanding tractor-trailer.