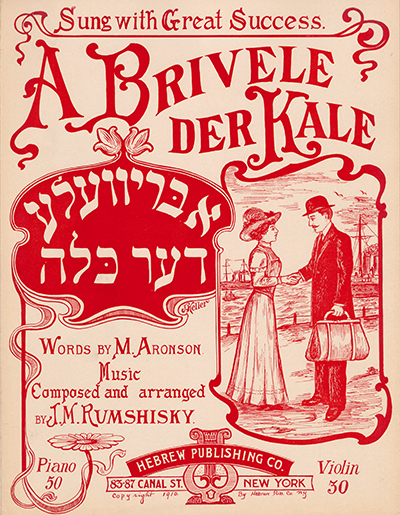 Yiddish Love Songs
A Sing-Along History Class | Online Class
Tuesdays, March 23–April 13, 10:30 am–12:00 pm (PT)
About the Program
Learn and sing along to Yiddish songs of love! From blushing brides to star-crossed lovers, connect to past generations of Eastern European Jews and their experiences of passion and longing.
The songs we'll sing together will focus on the Jewish Pale of Settlement within the Czarist Empire, a western region of Imperial Russia in which Jewish residency was restricted from 1791 until 1917. The music in this class will trace changing social conventions, attitudes, and priorities as life shifted at the turn of the twentieth century. Deepen your understanding of Ashkenazi Jewish culture through timeless and universal expressions of love.
---
Instructor: Cindy Paley served as the Music Educator at Valley Beth Shalom in Encino, California for thirty-six years. For the past twenty years, she has been the cantorial soloist for Lev Eisha and N'Shama Minyan, two prayer services for women in Los Angeles. In addition to her Jewish music recordings and family concerts, Paley teaches annual Yiddish music workshops at the Jewish Culture Festival in Kraków, Poland and performs American folk songs of the 1960s with the musical trio, The Folk Experience.