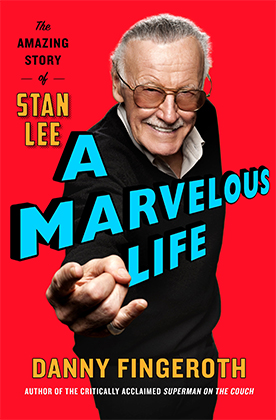 A Marvelous Life: The Amazing Story of Stan Lee
Danny Fingeroth in Conversation with Jerry Beck
Sunday, November 10, 7:30 pm
About the Program
Discover how Stan Lee became known as the voice and face of comics at this conversation between Lee's colleague and author Danny Fingeroth and animation historian Jerry Beck.
As editor, publisher, and co-creator of Marvel, Lee worked with creative partners, like Jack Kirby and Steve Ditko, to create world-famous characters including Spider-Man, the X-Men, and the Avengers. But Lee's career was haunted by conflict and controversy. Be amazed by Lee's complex and accomplished life at this illuminating discussion.
Books available for purchase. A book signing follows the program.
About the Speakers
Danny Fingeroth was an award-winning writer and editor at Marvel Comics. A highly regarded pop culture critic and historian, he is the author of books including Superman on the Couch: What Superheroes Really Tell Us About Ourselves and Our Society and co-editor of The Stan Lee Universe, an annotated collection of Lee-rarities from his personal archives. Fingeroth worked with Lee on numerous projects and conducted original, in-depth interviews with him (and many others) in the course of researching A Marvelous Life. Fingeroth has lectured on comics at Columbia University, the Smithsonian Institute, and at Milan's MiMaster Institute, among many other venues.
Jerry Beck is a writer, animation producer, teacher, and author of more than fifteen books on animation history. He is a former studio exec with Nickelodeon Movies and Disney, was instrumental in launching Animation Magazine, and has written for The Hollywood Reporter and Variety. He has curated cartoons for DVD and blu-ray compilations and has lent his expertise to dozens of bonus documentaries and audio commentaries on such. He is on the faculty of both Woodbury University in Burbank and Cal Arts in Valencia—and is currently editor of two prominent animation blogs: Animation Scoop (for news) and Cartoon Research (history).