Inspiring visitors to make a positive difference in the world is integral to the Skirball mission. In this "Building a Better World" section of the website, read about just some of the ways Skirball educators partner with families, schoolchildren, teachers, and community organizations to take concrete action to promote a more just society.
Kids in Action: Steps After the Skirball 2018–2019
At the Skirball, the Noah's Ark Build a Better World school program teaches our youngest visitors about empathy and civic responsibility. Each Grade 2 tour includes a service-learning project focused on one of three themes: helping people in need, taking care of the earth, or comforting animals. Teachers and students then return to their classrooms and create a project of their own. Read on to find out how participating schools helped build a better world!
EDISON ELEMENTARY LANGUAGE ACADEMY
As part of a promise for their Kindness and Justice Challenge, Edison Elementary Language Academy students collected socks and juice boxes for Chrysalis, a nonprofit dedicated to providing resources, support, and employment for people experiencing homelessness. Students also created "postcards of positivity," sharing their messages of encouragement and support. The items collected and created provided comfort to participating Chrysalis clients and lifted the spirits of everyone at Chrysalis.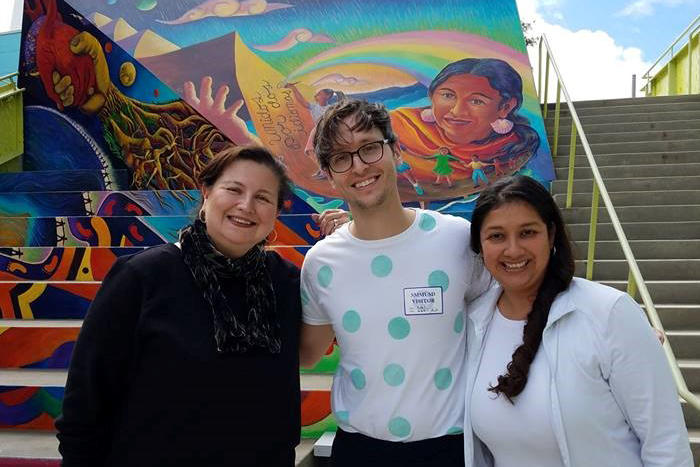 Skirball educator Dillon Nelson visits Ms. Jimenez and Ms. Melendez from Edison Elementary Language Academy.


Grand View Boulevard Elementary
After learning about single-use plastics and creating their own reusable tote bags at the Skirball, Grand View Boulevard Elementary students became advocates for recycling at their school. In addition to participating in a recycling program, they separated their compost, trash, and recyclables after breakfast each day. They also created illustrations and brainstormed ways they will continue to take action to make their world a better place.
GRANT ELEMENTARY
As a follow-up to their Build a Better World tour, Grant Elementary students had a complete sensory experience on the campus of the Theodore Payne Foundation, an organization dedicated to educating the community about the importance of native plants in Southern California. They learned how Indigenous people lived off the land by collecting and gathering seeds for food and creating baskets from willows and yucca. Students were able to smell, touch, and even taste as they deepened their knowledge of California history and the people, animals, and plants that have long called California home.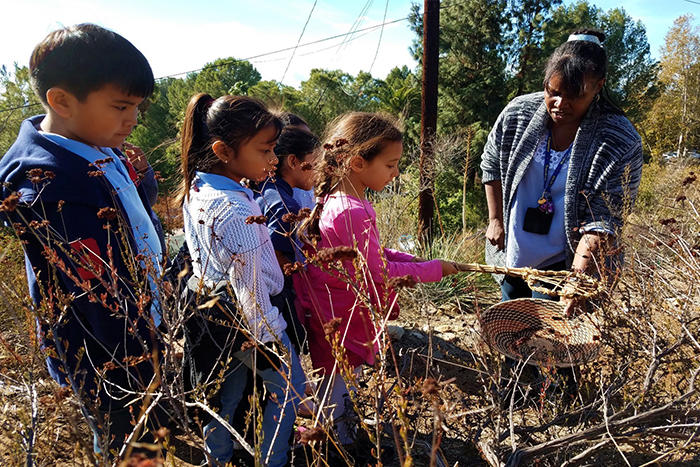 Students from Grant Elementary and their teacher, Ms. Sanders, explore and collect seeds at the Theodore Payne Foundation.



JUSTICE STREET ACADEMY
For their open house, Justice Street Academy students completed a writing assignment about Earth Day to share their plans for protecting our planet. They filled their classrooms with artwork and messages advocating for a cleaner and more environmentally conscious world. During their follow-up visit with a Skirball educator, students created nendo dango (Japanese for "seed balls") to plant at home to support the California ecosystem.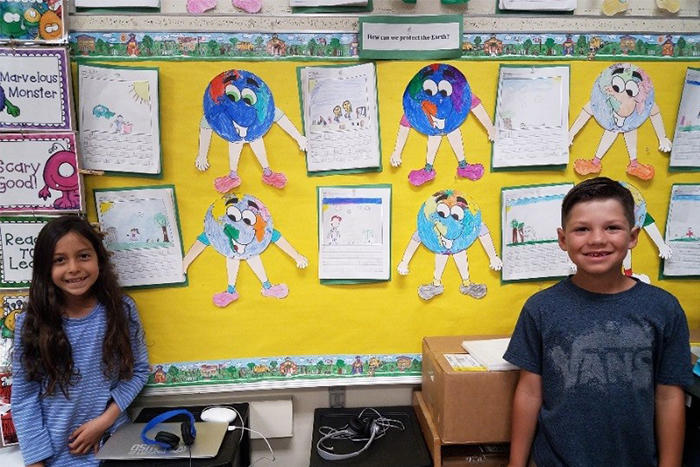 Students from Justice Street Academy pose with their artwork.



LASSEN ELEMENTARY SCHOOL
During their visit to the Skirball, Lassen Elementary School students created cat playhouses for Heaven on Earth, an organization working to transform the lives of homeless cats through rescue, sanctuary, and new beginnings. In an effort to continue protecting animals, over seventy-five students learned about single-use plastics and their toll on marine life. The entire second grade came together to create and decorate reusable bags to inspire their communities to reduce plastic use.
VENA AVENUE ELEMENTARY SCHOOL
Vena Avenue Elementary School students took part in a seed-planting activity and learned how one native plant can impact an entire ecosystem. Back in the classroom, the students created their own motivational artwork—including comic strips, informational pamphlets, and videos—to raise awareness about monarch butterflies, pesticide use, and the benefits of planting native species. Students then visited the Theodore Payne Foundation, where they became "naturalists" who collected information and examined plant life using microscopes, magnifying glasses, and even sometimes their own taste buds! Check out one of the videos by Vena Avenue Elementary School students here!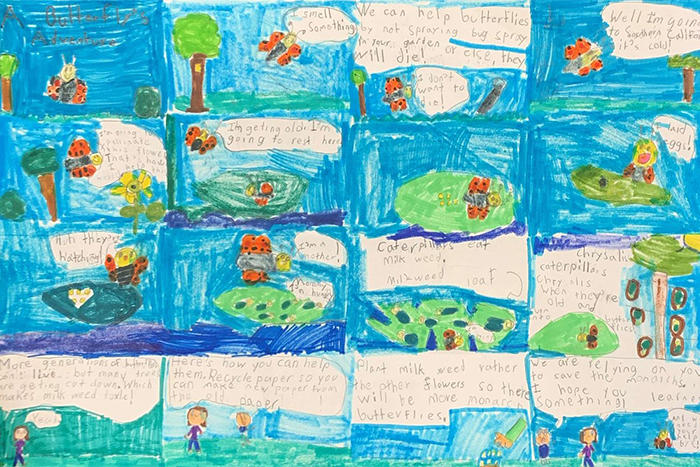 This comic, by a student at Vena Avenue Elementary School, shares ways to protect monarch butterflies.


Featured Community Partners
By working closely with mission-aligned community partners, we hope to strengthen the fabric of our community and provide our students with awareness, understanding, and opportunity to take action on behalf of the greater good.
Below is a list of partners we had the privilege of working with during the 2018-2019 school year. Many are ongoing partners, some are new partners, and all are vital to the success of the Build a Better World program.
If you feel inspired and want to "build a better world" with organizations near you, please explore our interactive map.
—Dillon Nelson, Associate Educator, Build a Better World, August 2019